On Editing and Rewriting A Script
A myth of perfection and a whole lot of ways you can impress your friends
For the past few weeks, I've been rewriting a pilot for a TV SHOW. While I can't speak about the details due to the massive and frankly multi-million dollar deal I am working on with a big time studio who has agreed* to purchase the project as soon as it's done, I would like to write about the process of rewriting, both for my own edification and because I feel like it might be useful for others.
*pending
In truth, the script is an idea I've been developing and writing for the past year. I'm making a big push to edit it so that I can use it as a writing sample to get a writing job and/or sell it and/or impress my friends (see below photo) by sending them a document that has 50+ pages of words written by me.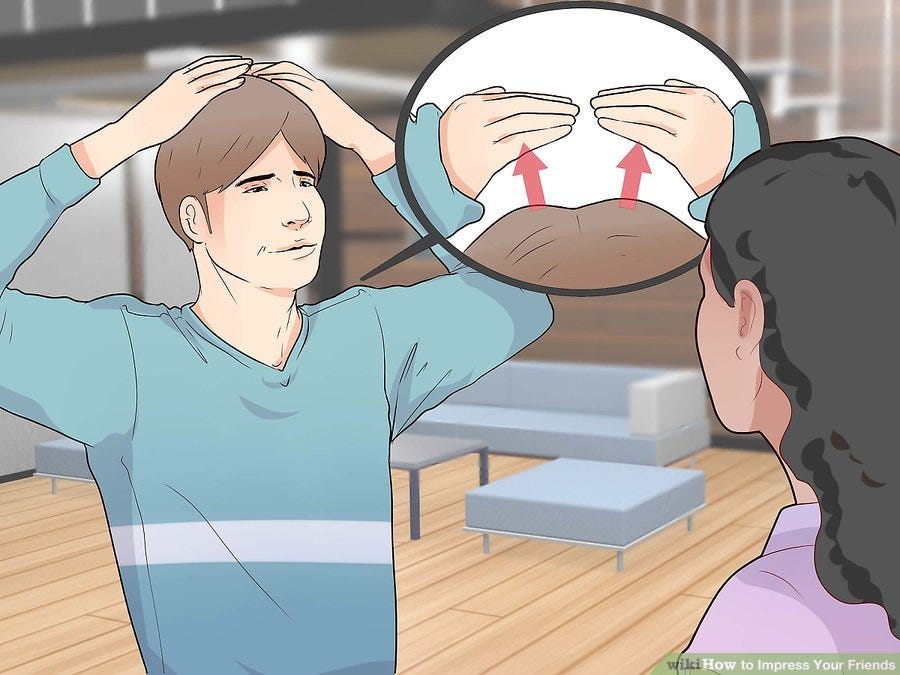 Here's another way to impress your friends, according to the super practical article on the super useful website Wikihow called "How To Impress Your Friends" In this setup, you impress your friends by showing them that this time, you did NOT put glue on your hands before placing them on your head!
The Process
I started this with a mostly written pilot script of the show. It came in at 43 pages and was largely a mess, that is to say it needed a lot of work. So, here's what I did:
Review the current script

Identify new stuff to write

Break down 'new stuff' into scenes

Write each scene on a notecard

Handwrite each scene quickly

Staple or paperclip each scene to that notecard

Type out each newly written scene into a single, new document

Massage the new scenes into the existing script
That's as far as I've gotten, and dare I say that's pretty damn far. And yet, I'm nowhere near done. In fact, the next step will be to rinse and repeat: start back at the "review" stage and go back through, note what needs adding, rewriting, etc, then I need to do those specific things, integrate, and, most likely, rinse and repeat once more.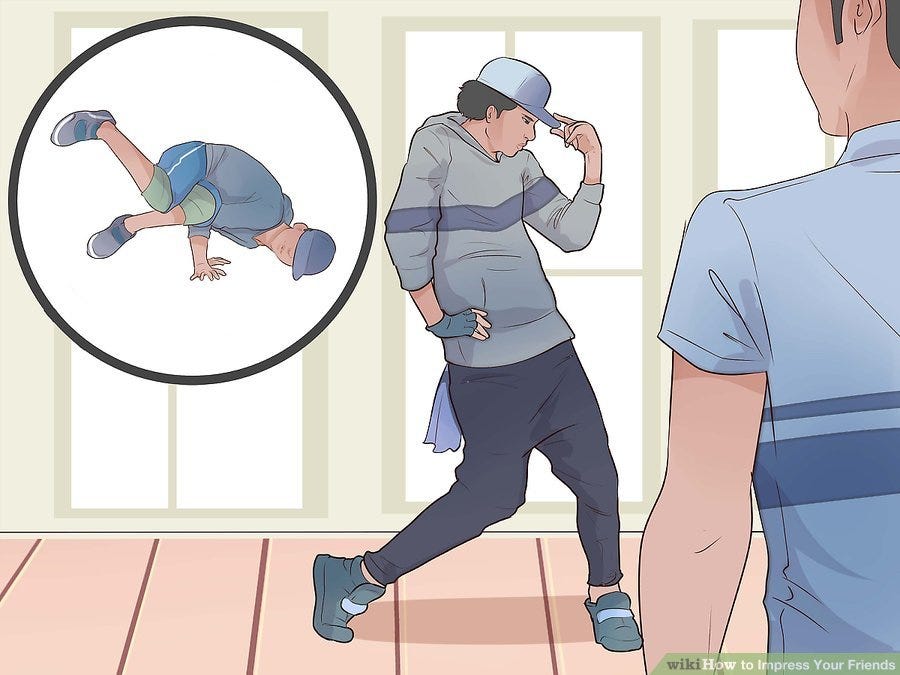 This one's called "Do a dance move while your friend floats inside of the see through Pokeball you brought with you!"
Writing is Rewriting
I've always hated when people would say 'writing is rewriting." It felt like they had solved some riddle and were so smug about letting me in on the secret. Though maybe that just means I have a big ol' chip on my shoulder and don't like being told what to do. Which is true - I don't.
And yet here I am sharing what I do with others, hoping it might help. Life is a strange paradox full of psychological blind spots. Tight.
I've been thinking about that lately, how most cliche quotes are true, we just are too hardened by reality to really hear them, to let them in. Neil Gaiman mentions this in his book "American Gods" - he says we don't let everything in as a defense mechanism so that we can go on living. Otherwise, we'd be crawled up in balls of fear or joy or tears or soy.
That's right, I said soy. It was a joke, done for the rhyme.
Anyways. We let the quotes float on by, because we must. Or maybe because they are bullshit.
Or maybe they're both. Both are true, lolz.
Anyways. The tangents are hitting hard tonight, Charlie.
To tell you the truth, I find solace in the idea that writing is rewriting, because it means that writing can suck. It meant that when I was handwriting each scene - the part of the process I hate the most - I could take the pressure off of myself just a little bit, since I knew that later I'd be able edit and change and delete most of it. And that's okay. It's better than okay, it's great! That's a nice thing, to know and trust in the future you to clean this shit up.
Anyways, I'm rambling and probably not going to edit this much since this is mostly for me and perhaps works better if I stick to the stream of consh style I'm developing here, thus negating everything I've been talking about above.
If you're still reading, bless your heart.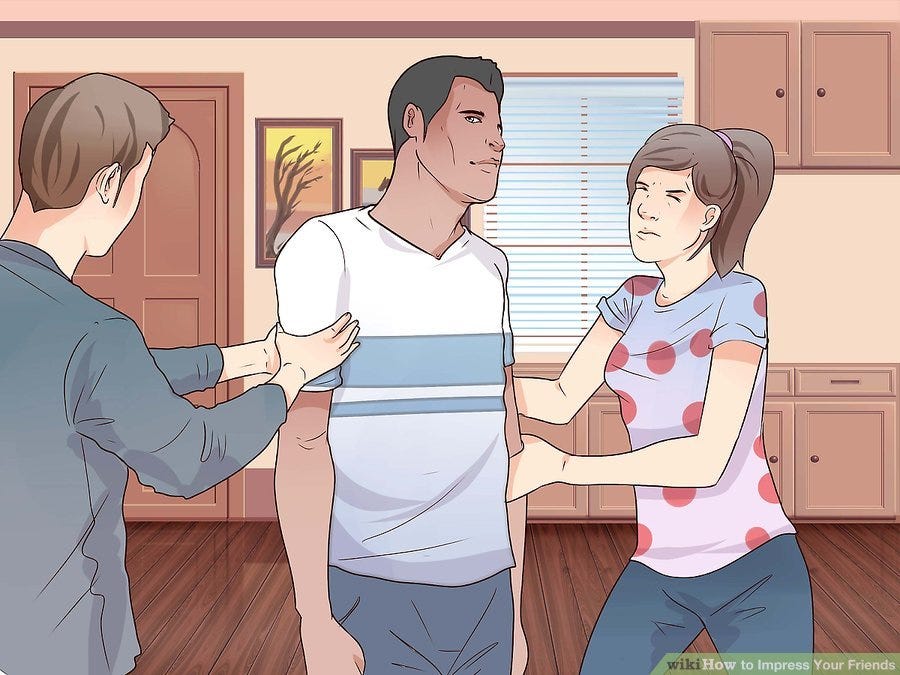 This one of course is "rip your friends arms off of his body!"
Some takeaways (back to the writing)
Here's a few takeaways from the process that I am likely to forget if I don't write them down:
Clarify the steps:
The script itself is a black hole hurricane of imperfection - it will suck you in and never let you go UNLESS you can clarify, with precision, what exactly needs to get done to get from here to there. Outlining the steps and then doing each of the step, one by one, made the process way less miserable. Keep doing that!
Slow down:
Similar to the above, remembering that when you're doing step 2, you don't need to be worrying about step 5. Trust the steps. Trust the process. **
Postpone the need to 'fix':
Since I'm a classic, bonafide Man™, I like to fix things such as cars, my partner's problems, and my scripts. This is almost never a good thing, especially not when moving through the stages of rewriting. This morning, I felt such strong and violent pangs of "FIX THIS" as I worked to integrate the scenes I had written into the existing script. This was not fun, and more importantly it just wasn't helpful. So I postponed that need and kept doing the simple part of the process I had set out to do - integrate the scenes. Future me can handle the edit, at least that's my hope.
Writing is rewriting which ends up also being writing which in turn becomes more rewriting.